| | | |
| --- | --- | --- |
| | Tattoos by Brian | |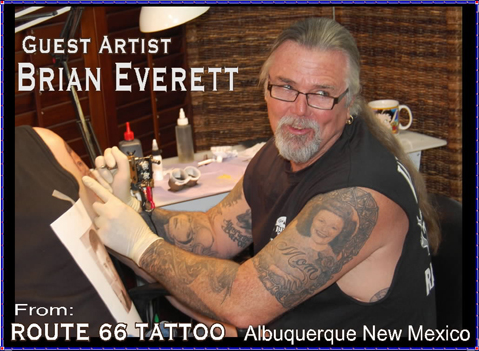 Guest Artist At Wild Bill Tattoo Roseville, CA. swipe or click < arrow on left for more photos. You can email him to make an appt. brianever8@yahoo.com Be sure to do it well in advance, he gets booked up fast. Brian is also always here tattooing during Sacramento Auto Rama (April) and Reno's Hot August Nights. (August)
Brian Evertt
Brian Everett is a guest artist here 4-5 times a year. Be sure to call well in advance for an appointment.
Most tattoo people connect Brian Everett's name with refined photo-realistic skin art. While attending the University of New Mexico he opened a tattoo shop called Route 66 Fine Line Tattoo. Located at 5511 Central Ave. Albuquerque, New Mexico. With six tattoo artists; Brian Everett, John Howard, Max Vasher, Gilbert Vasquez, Jesse Jones and Jay Smith.
The popularity of the shop forced him to devote himself full time to overseeing the business. When Jack Rudy told him to "treat your tattoo machine like it's a pencil" Brian says, "all of a sudden I realized when the chains fell off and I was free to develop my own style."
I first ran into Brian Everett at a tattoo convention in Virginia. He was getting tattooed by Jack Rudy. At the time I had no idea what a positive effect Brian would have on my life. I kept running into the work of Brian Everett at conventions and started to watch his work very closely. The realism in his work was really making it stand out. Portraits with depth and dimension very few people could achieve.
I had him do a life size portrait that took almost nine hours on my thigh. Believe it or not, I had to stand the entire time. That tattoo has more than ten major awards. Brian and I got together at car shows, conventions, or at my studio when ever he was available. He completed my right leg in fine line black and grey. Including portraits of my parents wedding day, my 1915 Ford, 2002 Panoz Roadster, and my 1966 VW bus.
Brian is truly a family man with very high values that I admire greatly. He work on me blows people away both young and old. I truly feel he is one of the top portrait artists in the world. Brian is a guest artist at our shop at various times during the year. Just email me to get on the waiting list.