Work Schedule:

Mon 10-4
Tues 4-10
Wed 10-4
Thur 4-10
Sun 3-10

Tattoos by Cory Gene

CELL: (530)333-5744 TEXT ONLY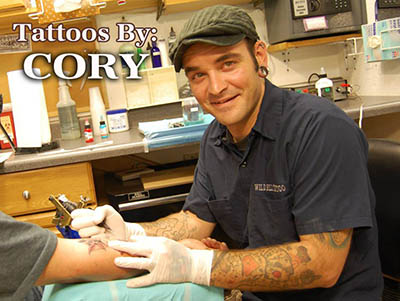 Hello. My name is Cory Gene. I've been tattooing for close to 4 years. I'm a self- taught artist, and have been drawing and painting my entire life. As a child I was inspired by the legendary Bob Ross as I tend to be a visual learner. In high school I was always asked to draw peoples tattoos they wanted to get. I completed a formal apprenticeship of one year and one half and became a tattooist on August 19th 2011. I enjoy al styles of tattooing, but I mainly focus on American traditional, traditional Japanese, black and grey and realism. My main inspirations are Jeff Gogue, Cory Norris, Nikko Hurtado, Donnie Irish, and Scott Sylvia. I like to custom draw my tattoos. I live by "create, never duplicate" So come on by and check out my book and let's talk.
| | | | |
| --- | --- | --- | --- |
| | | | |
| | | | |
| | | | |
| | | | |
| | | | |
| | | | |
| | | | |
| | | | |
| | | | |
| | | | |
| | | | |
| | | | |
| | | | |
| | | | |
| | | | |