ESPN Magazine Back Court by Anne Marie Cruz June 12, 2002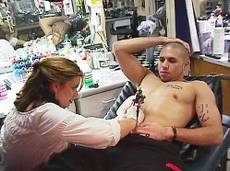 Kim Forrest tattoos Mike Bibby of the Sacramento Kings
Lording over this second-floor lair of clean and sober tattoo artists is Wild Bill Hill, a bearded, hulking man who's quite literally a dyed-in-the-wool Kings fan. Family portraits and fantasy-scapes blanket his flesh. Jason Williams was a regular here; his mug's still plastered on the parlor's business cards. Wild Bill is thrilled that Mike Bibby picked up right where "White Boy" left off.
The parlor walls are a noisy collage of mirrors, posters, drawings and celebrity snapshots. A skeleton dangles from the ceiling. (It's real -- a worker at a nearby college lab bartered it for some tatts.) Though Bibby already has "Team Dime" etched along his spine, he studies a print-out of several new fonts. He considers having a "1" and a "0" seared into his trapezius. Wild Bill helps Mike drape six-inch-long paper cutouts of the numbers over each shoulder while he checks his look in the mirror. Nice, but it'll have to wait.
"How many people have these tattoos?" Wild Bill asks, suddenly curious. "Thirty? Sounds like a gang to me." Bibby glances at him, and says nothing. Gang? This "gang" spent the afternoon waiting outside Gap Kids at the Arden Fair Mall, while Mike and Darcy shopped for clothes for Michael and their 22-month-old daughter, Janae. "I don't know why we came here," Nielsen says, sighing. But of course he does: "Mike doesn't like to be alone. Ever." With little to do but lean over railings and stare at the shoppers below, Team Dime couldn't even muster the energy to clear out the fans circling Bibby for autographs. Mall security had to come to his rescue.
Electric needles buzz like radioactive mosquitoes as Turner, McDonald and Anzer are branded. Bibby scrutinizes the work, smirking as his friends wince and sweat and squelch whimpers. The thick black ink stains their forearms, backs and shins.
Team Dime's loyalty isn't merely skin-deep. They cater to all of Bibby's needs: Minute Maid apple juice from Wal-Mart … three home-cooked meals a day (courtesy of Thompson and McGruder) … weight training at L.A. Fitness in Phoenix (anyone who's there jumps in) ... pep talks during those 50-plus-loss seasons in Vancouver ... rebounds during off-season practices ... helpful tips ("Gotta take the gum out when you're on TV") ...