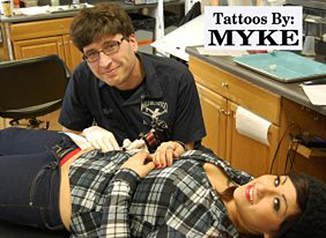 Hi! Iím Myke. I was Born in Omaha Nebraska in 1982, raised in Italy, then and moved back to California at the age of 15. I'm now 35, and have been tattooing for 12 years. I graduated the Academy Of Art University of San Francisco, with a BFA in Illustration in may of 2006. I love art. Other than tattooing, other mediums I use are Charcoal, Watercolor, pen and ink, acrylics, oils, pastels, digital, colored pencils, silk screening, or markers to name a few. Some of My favorite artists are: Harley Haslem, Jesse Smith, Paul Booth, Cool Aid, Howard Pyle, N C Wyeth, Guy Aitchinson, N C Lynedecker, Ashley Woods, Rembrandt, Peter Paul Reubens, Albrecht Durer, and many more. Looking at my portfolio, you may notice that I have a broad spectrum of different tattoo techniques. That's because I'm comfortable tattooing in many styles, so I don't turn work down unless I think it won't work as a tattoo. This is reflected in my portfolio by having different looks in my tattoos; however, my preferences tend to be watercolor work, pen and ink brush stroky work, realistic images and characters, Portraiture work (human or animal), black and gray, anything dark and creepy, anything bright and colorful, anything "new school"/cartoony, trash polka, graffiti, comic books, or anything that resembles fine art, modern art, or illustration. Let's Get together for a consultation, and we can discuss what kind of awesomeness you want on you.
to see more tattoos as well as drawings and sketches please visit my facebook page
If you would like to book an appointment with me, please contact me directly, not the shop. my number is 916 622 9931. I tend to answer texts much more promptly as they are multitask friendly, If you can't text please leave a message anyway and I'll get back to you as soon as I can. Thank you!