| | | |
| --- | --- | --- |
| Work Hours: | Tattoos by Scott | CELL: (530)391-6352 TEXT ONLY |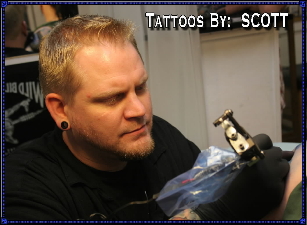 Hey!
My name is Scott Sprouse...Iím a tattoo artist from Ohio.
I moved to California in 2005 to be with my girlfriend and to further my tattoo career.
I first became aware of tattoos at young age. I was six years old when my father came home with a new tattoo. It was a butterfly with my Motherís name.
After seeing that I soon graduated from pen and paper to pen and skin. My left hand and forearm were always covered with all kinds of designs- from Sharks to Big Bird. My fascination didnít end there. I was starting to develop a taste for bikes, skateboards, and music.
A small portion of the musicians and skaters had tattoos, a rebellious form of expression- just like their crafts. My early influences in tattooing were: Atom Gray, Chris Dingwell, and Durb Morrison. Their work still inspires me today.
Iím also inspired by the work of Alycia Harr, Cleen Rock One, Tim Victim, Josh Woods, and Brandon Bond. Although Iíve been tattooed by several artists, Atom Gray and Alycia Harr have done a large portion of my work. In my spare time I enjoy watching old black and white horror movies, drawing tattoo flash, and spending time with my family.
I hope to always continue learning so that I can give each client a tattoo that they will love for the rest of their lives.
Stylistically, I love to do full color new school tattoos, (bright cartoony and tweaked out) anything related to Halloween, and traditional. It is important with any custom art, including tattoos, to keep a few things in mind: The first thing is that your artist wants to give you the best tattoo possible.
We put all of our energy into this, and our name is carried with every person that gets tattooed here, therefore, we are excited to help you bring your idea to life in the most dynamic way possible.
What this means to you is that your artist may make suggestions to improve the overall artistic quality of your idea. We are always happy to design a tattoo based on any idea, drawing, or reference you may have, but we do enjoy spicing up a tattoo.
The next thing to remember is that 100% custom tattoos don't just happen, it is a combination of client input, artistic vision, and mostly hard work. Drawing, even for those of us that do it everyday, is time-consuming, often all-consuming work.