This is a completely restored 1964 Amphi-Car. I did a complete restoration process including new rubber everywhere. The car is completely sealed and water tight. No leaks from anywhere and the car works great on land, in the lakes, streams riverbeds and even small Oceans. *smile* In any event here are some fun photos of a wonderful car from the past. Enjoy the pics.... Everyone needs one of these.....
Click on photo to enlarge
Yes, it floats. Yes, I've taken it in the water. Yes, its great for fishing.
Yes, I've seen Pontiac moon. Yes, you can still get parts.
No, the wheels don't fold up. No, you can't water ski behind it.
No, I would not take it in the ocean. No, its not for sale.
Yes, I will race you across the lake. But we start from the middle of the parking lot.
SERIAL NUMBER: 00000137 [OUT OF 3,000] MADE IN:
WEST GERMANY 63-67, LESS THAN 200 ARE KNOWN TO EXIST IN THIS CONDITION, WORLD WIDE
ENGINE: 43-HORSE , 4-CYL. TRIUMPH SPITFIRE
LAND SPEED: 65-75, WATER SPEED: 15-17 KNOTS
WEIGHT: 2,292 LBS. GROUND CLEARANCE: 11"
GEARBOX: SYNCHROMESH, 4-SPEED.
SUSPENSION and BRAKES BY: MERCEDES,
WATER TRANSMISSION BY:PORSCHE
DUAL PROPELLERS MADE IN: FINLAND
FUEL USE: LAND: 34 mpg On WATER:1 1/2 gals. per hr.
I WOULD LIKE TO THANK: BUGFORMANCE MOTORSPORTS,
BOBS UPHOLSTERY, LEWIS WELDING and BRITEX
---
Hey Wild Bill, What the Heck is That?
... A 1964 Amphicar
World-famous tattoo artist Wild Bill Hill, of Roseville CA, was far from home looking for a Nash Metropolitan when he found this rare, amphibious vehicle.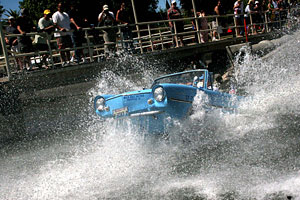 It was 1964 Amphicar. His initial thought: "That's even uglier than a Nash".

With no money in hand and a rather tight budget, he made a really low offer. The owner said, "I like your face; I think you'll give it a good home". The deal was done. It take several months of payments but Wild Bill was finally able to bring the "water car" home.

The Amphicar needed a complete restoration: stripping and repainting, upholstery, rebuilding the motor-transmission, new rubber seals.

It's now completely sealed and water tight with no leaks anywhere. The car works great on land, in the lakes or rivers. It's unquestionably Wild Bill's favorite car and takes it out every chance he gets.

Wild Bill started collecting cars about 20 years ago with a Model T and now has a garage full of specialty cars, including a 1915 Ford Speedster (with a matching miniature go-cart), 1932 Ford Phaeton (with a matching go-cart), 1954 Porsche Spyder, 1959 Messerschmitt, 1959 Nash Metropolitan, 1966 shortened VW Bus, 1999 Chevy flat-bed car hauler, 2002 Panoz AIV Roadster, 2005 Panoz Esperante, 1966 H-D Shovelhead (with a matching miniature), a Bobber motorcycle and 3 mini-bikes.

His wife Nancy has a 2009 Lincoln MKX, 2007 Pontiac Solstice and a 1940 Stearman bi-plane.


This is number 137 out of just 3,000 Amphicars built in West Germany from 1961 to 1967. But just less than 200 are known to exist in this condition worldwide. It's the only civilian amphibious passenger automobile ever to be mass produced.

The Amphicar is equipped with water tight doors that have double locks and seals to keep out the water, a rear mounted water cooled 4-cylinder Triumph Spitfire engine producing 43 horsepower, and twin nylon propellers.

A special two-part land-and-water transmission allows the wheels and propellers to be operated either independently or simultaneously. In the water, the front wheels act as rudders. It runs 32 mpg on the road and 1 1/2 gallons per hour on the water.

It weighs 2,292 lbs. with a top speed of 7 mph on water and 70 on land. Hence, it was dubbed the "Model 770".
Yes, it floats. Yes, Wild Bill takes it in the water all the time. Yes, it's great for fishing. Yes, you can still get parts. Yes, one sold at auction recently for $127,000. No, the wheels don't fold up. No, you can't water ski behind it. No, I would not take it in the ocean.

And, no, it's not for sale.

Wild Bill will be showing his 1964 Amphibious vehicle at this year's Pacific Coast Dream Machines Show, May 1st at Half Moon Bay Airport.