1954 Porsche Spyder

Model -550. Specifications: Wheelbase 85", Length 146", Width 61", Height 40", Weigh 1,100 lbs. Front Suspension: Upper + lower trailing arm torsion bars. Rear: cross torsion bar height adjustable trailing arms. Engine 2,276 cc. Opposed-4 Air-cooled. [Dyno-tested at 180 horsepower]. Dual polished 45mm DELLORTO carbs [with built in velocity stacks].HEX linkage. CB PERFORMANCE high output electric fuel pump. DEMELLO 8-dowel lightened counter weighted forged Chrome molly 84mm crankshaft. Lightened and balanced flywheel. Chrome molly cynlinder studs. HI-REV valve springs. Big valve MoFoCo 050 ported and polished heads with competition lightweight high lift EMPI rockers and lifters. WEB chrome molly high performance camshaft. TEFLON BUTTONS Chrome molly push rods and valve seats. CIMA 94 pistons. 680 cranking amp dry cell ODYSSEY battery. SIMPSON five-point seat belts. KONI competition shocks. Custom built High output JOE HUNT magneto. KENNEDY HP clutches. The oil runs through a high capacity MAXI-3 aluminum oil pump and external Pass Tru-Coil oil cooler with an 9" electric fan attached. Starting is by a polished IMI HIgh torque starter. The exhaust flows through big tuned headers. The muffler is a semi-open stinger, [able to meet the decibel requirements at most tracks without excessively choking down the engine]. The transmission, a professionally built swing axle with close ratio; 1st. + 2nd. WP high strength racing gears, WP 3rd. + 4th. Also: [3.88 ring and pinion] is actuated by a short throw shifter. Stopping power is supplied by; NEAL billeted drilled disk brakes. Performance: 0-60 in 4.8 Seconds, Quarter mile: 12.2 @ 103 mph. Maximum speed: 150 + mph.
Click on photo to enlarge
Wild Bill's 1954 550 Porsche Spyder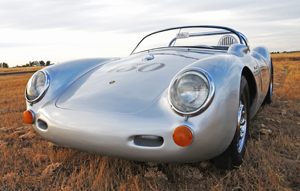 Bill Hill, known far and wide as Wild Bill, is one of the foremost tattoo artists in America.
He is also a world-class car collector.

Wild Bill will be showing his 1954 Porsche Spyder at this year's Pacific Coast Dream Machines Show, Sunday, May 1 at Half Moon Bay Airport.

He's been a longtime supporter and great friend to the Dream Machines and for that we are most grateful and honored.

Back to his car collection …

Porsche began offering the 550 Spyder to the public in 1954. These cars were equipped to legally drive on the street. They terrorized class racing and whipped up on plenty of cars with bigger engines on the track and the street. Porsche couldn't sell enough of them.

It didn't take long for the Spyder to take on legendary proportions, winning at LeMans in 1953 and again in 1955. James Dean owned one for only 9 days before that faithful day his life ended at Highway 41 while headed to a race in Salinas CA.

Wild Bill first spotted a Spyder 15 years ago at a show an asked the gentleman if he could try it on for size (being 6' 6" was always a factor while shopping for cars). Much to his delight it fit.

It took 10 years to find one for sale. It was the day before Christmas. Hill hopped on a plane and headed to San Diego. After a lot of talking the car was mine. It had been sitting since 1985 so it needed a complete restoration –– stripping and repainting, and new upholstery for starters.
1954 550 Porsche Spyder
Weight:
1,100 lbs (one of the lightest cars on the road)
Performance:
0-60 mph in 4.8 seconds; 1/4 Mile in12.2 seconds at 103 mph
Max speed:
150+
Layout:
Rear engine, tube frame, wheelbase: 85", length: 146", height: 40"
Engine:
Opposed Air Cooled Flat Four, Dyno-tested at 189 horsepower
Transmission:
4-Speed, Manual swing axle with close ratio short throw shifter
Rebuilding the 2,276 cc engine as a major undertaking. The work included adding a lightened chrome molly crankshaft, a lightened and balanced flywheel, ported and polished heads with competition lightweight high-lift rockers and lifters, a chrome molly high performance camshaft installing a high output electric fuel pump, Joe Hunt magneto, and dual polished Dellortos (with built in velocity stacks).
The oil runs through a high capacity aluminum oil pump and external oil cooler with an 9" electric fan attached. For safety, there's a five-point racing harness, roll bar with a built in third break light. "It's like driving a go-kart, so responsive and close to the ground," said Hill. "I've been taking it auto-crossing every weekend and the way it holds the road going into corners is just incredible."

Wild Bill, from Roseville, started collecting cars about 20 years ago with a 1915 Model T Speedster. He now has a garage full of specialty cars –– a 1964 Amphicar, 1932 Ford Phaeton, a 1959 Messerschmitt, a 1963 Amphicar, a 1966 Short VW Bus, a 1959 Nash Metro, a 1999 Chevy flat bed Car hauler, two Mini-Cars, 2007 Pontiac Solstice, 2010 Lincoln MKX, 2002 Panoz AIV Roadster, 2005 Panoz Esperante.
Check out Wild Bill's collection by clicking on http://www.wild-bills.com/autoindex.htm.
James Dean had only entered three races with his Porsche 356 Speedster and had done reasonably well for a rookie driver. Dean was anxious to move up to a more competitive racecar, and had ordered a Lotus Mark 8 without an engine. His plans were to have an engine built for the Lotus that would make him competitive in modified classes.
Click on photo to enlarge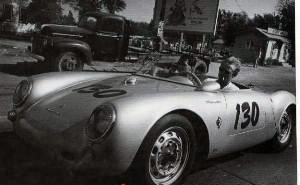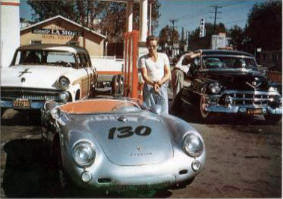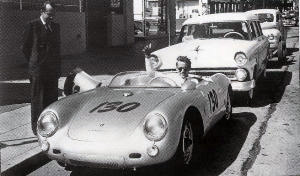 Before the Lotus was delivered, however, Dean became infatuated with Porscheís 550 Spyder. Porsche had debuted the 550 Spyder at Paris Motor Show in October 1953. It was the first Porsche designed and engineered specifically for racing. It didnít take long for the 550 to take on legendary proportions, winning at LeMans in 1953 and again in 1955 and dominating the 1100 and 1500 cc classes in events all over the globe. It had received the Index of Performance for having the best-combined speed and economy of the LeMans field.
Porsche began offering the 550 Spyder to the public in 1954. These cars were equipped to legally drive on the street. They terrorized class racing and whipped up on plenty of cars with bigger engines on the track and the street. Porsche couldnít sell enough of them.
The 550 Spyder became extremely popular with both professional drivers and amateur drivers in Europe and the United States. In fact, many great drivers built their winning careers racing a 550 Spyder. Dean had eyeballed a 550 at a race in Southern California and read about the stunning success the 550 had enjoyed in global racing, it made perfect sense that Dean would crave a one. For wealthy amateur racers, it was a cert desirable car Powering the 550 was the Type 547; an air cooled horizontally opposed four-cylinder ďBoxerĒ engine displacing 1498 cc (91.4 cid). The complex but highly reliable 547 boasted twin shaft-driven overhead camshafts, two valves per cylinder, a roller bearing crankshaft, 9.5: 1 compression ratio and dual Solex carburetors. Two plugs per cylinder and dual distributors provided optimum spark, especially needed at the top of the 6200 redline, which at that point the 547 was cranking out 110 hp.
The engine was longitudinally mounted amidships and mated to a four-speed gearbox in a flat tubular ladder frame with six cross members made of welded tubes. Mounted on this frame was a hand-built aluminum body measuring 140 inches long, 52 inches wide and 40 inches high. It weighed racecar light - less than 1,250 pounds. Porsche claimed a top speed of 142 miles per hour.
Dean had purchased his 356 from John Con Neuman, who owned Competition Motors in Los Angeles. Competition Motors sold Porsche, MG and Volkswagen and was highly involved in the Southern California sports car racing scene. Von Neumann accepted Deanís order for a 550 Spyder, and the car, chassis number 55, was delivered on September 21, 1955. Dean paid $6,800 (the equivalent to eight Volkswagen sedans).
Click on photo to enlarge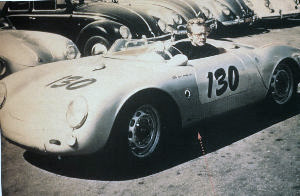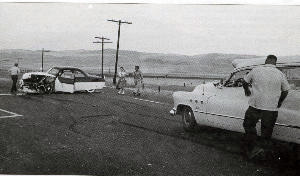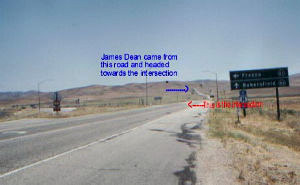 Dean commissioned car customizer George Barris to paint the number 130 on the hood and doors, and the name ďLittle BastardĒ (a nickname he had picked up on the set of Giant), on the rear. Rolf Wutherich, Deanís mechanic, gave him the gift of green and white enameled metal plaque from the Nurburgring racetrack in Germany. Dean had this mounted on the driverís side front fender.
Now that the filming was over, Dean was eager to get some pre-race miles on the 550. A Warner Brothers press release dated September 16 reported that with Giant completed, Dean would be going on a ďracing kick.Ē Heís told some of his friends that he planed to race at Salinas, and although heís not entered he is expected. Before he can put some miles on the 550, he gets into a minor fender bender and has to bring the Porsche back to Competition Motors for repair.
Concerned about the safety of driving the Porsche 250 miles up to Salinas from Los Angeles, he purchases a trailer to pull behind his white `55 Ford Country Squire wagon. While it wonít allow him to break the 550 in, it was in his eyes, a damn sight safer than ďdriving the Spyder up north.Ē
Early on Friday morning, September 30, 1955, Dean arrives at Competition Motors to load the Porsche on the trailer for the trip to Salinas. After a final check out, Wutherich installs a safety belt for the drivers seat. Since no one will be riding shotgun during, Wutherich doesnít install one for the passenger seat. They load the 550 on the trailer, pile into the Country Squire and leave Competition Motors.
Before they hit the road for Salinas, however, Dean meets his Father, Winton, and his Uncle Charles Nolan Dean at the Ranch Market on Fairfax Avenue in downtown Los Angeles for an early lunch. After lunch, Dean and Wutherich pick up two friends, photographer Sanford Roth and Bill Hickman (who in 1968 would appear as the driver of the Dodge Charger in Bullitt).
Deanís only owned the 550 for nine days and heís itching to drive the Porsche to get some miles on the engine before the race. They unload the Porsche off the trailer and he and Wutherich set off with Roth and Hickman in the Country Squire, now pulling an empty trailer. With Dean in the lead, the two cars drive to the freeway, then up Sepulveda to Route 99 (now Route 5).Ē
At Castaic Junction, they stop at Tipís Diner for a brief meal and then return to the road. Around 3:00 PM, Wutherich wants to check the oil on the brand new engine. They pull over, which gives Roth and Hickman a chance to catch up. Since theyíre pulling the trailer, they canít stay up with the Porsche even though the Ford is going 60 mph.
Wutherich closes the Porscheís rear bonnet and declares everything in fine. A few minutes later, Dean leaves Ridge Road and drives through Bakersfield. At approximately 3:30 pm California highway patrolman Oscar Hunter pulls Dean over for doing 65 mph in a 45 mph zone and writes him a ticket. ďIf you donít take it slower,Ē Officer Hunter tells him, ďyouíll never reach Salinas alive.Ē Hickman also gets a ticket in the Ford, the price for trying to stay with the speeding Porsche.
He and Wutherich take off, pointing the Porsche north. At Wasco he turns onto Route 466. Around 5:00 pm, Dean wheels the Porsche into Blackwellís Corner at the corner of Route 466 and Highway 33. There he chats for a few minutes with racer Lance Reventlow in his gray Mercedes 300SL. Reventlow is also headed for the races in Salinas.
Click on photo to enlarge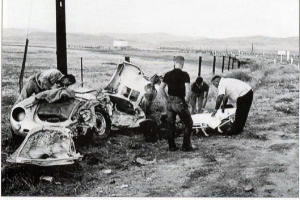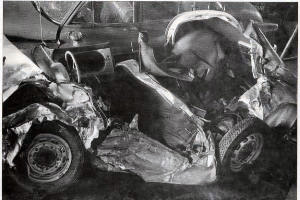 Dean decides that heíll meet up with Roth and Hickman at Paso Robles for the final leg of the trip to Salinas. After a 15 Minute break, the Porsche is again on the road. The Porsche outdistances the Ford again as they ascend Polonio Pass. The golden sun is bright as it gets low on the horizon. Dean begins descending into a valley toward the intersection of Highway 41, which intersects from the right at about a 45-degree angle. Dean is hammering the Porsche. Heís been averaging 75 mph since he got the ticket near Bakersfield.
Thereís hardly been any traffic since Blackwellís Corner, so Deanís not too concerned about the oncoming black-and-white 1950 Ford Custom Tudor coupe as it draws nearer to the intersection.
Donald Turnuspeed, a student at California Polytechnic Institute in San Luis Obispo, was traveling home to Tulure for the weekend. At approximately 5:45 PM, he slowed to make a left onto Highway 41. Turnuspeed didnít see the lowslung silver sportcar on the gray concrete road as it hurtled towards him.
Even with the setting sun in his eyes, Dean could still see the big Ford as it crossed the centerline and turned into his path. He was sure the Ford would stop. ďThis guyís got to see us!Ē Dean yelled over to Wutherich.
Turnuspeed did see the Porsche, but by the time he slammed on the brakes, it was too late. The left side of the Porsche violently smashed into the front of the Ford at high speed and sailed into a ditch near a pole. The fragile, aluminum-bodied Porsche was twisted, the drivers door crushed, the steering wheel shoved over the passengers side. The car was almost torn in to two. The Ford was stalled in the middle of the intersection, the left front fender and steering damaged.
Wutherich was thrown from the Porsche and suffered a fractured jaw, broken leg, multiple contusions, cuts and abrasions. Dazed, Turnspeed staggered out of the Ford, bleeding from a gash on his forehead. As he limped over towards the Porsche, Roth and Hickman came upon the accident scene and the eerie silence that surrounded it.
ďThe Porsche looked like a crumpled pack of cigarettes,Ē said Roth.
Roth and Hickman ran from the Country Squire to find Dean pinned in the wreckage. The impact had thrown his head back, snapping his neck. His body had been pushed over to the right side of the Porsche behind the steering wheel and was slumped over the passenger door. His foot was caught between the clutch and the break pedals. He had suffered a broken neck , multiple fractures of the left and right arms, and massive internal injuries.
Roth did what he knew he had to do. He took out his camera and documented the carnage for history. The twisted Porsche, the attendants placing Deanís body in the ambulance, the aftermath of an accident in a lonely, desolate place, all were caught on Rothís camera.
Deanís body was pulled from the wreckage and taken to the emergency room of the Paso Robles War Memorial Hospital, where he was pronounced dead on arrival. When his press agent was informed of the accident, it was she that brought the news to Winton Dean. Winton drove up to Paso Robles that night and identified his sonís body in the morgue. Turnupseed was not charged with the accident.
Up in Salinas, where preparations for the rave were going on, the word of Deanís death didnít arrive until the following morning. It Spread through the pits and to the spectators that Dean had been killed on his way up to Salinas. The usual pre-excitement turned solemn and much of the weekendís racing was overshadowed by the unfolding details of the accident and his death.
At the Coronerís Inquest held on October 11 in San Luis Obispo, Turnupseed testified that he slowed as he approached the intersection, glanced up the hill to look for oncoming cars, them crossed over the line to turn onto highway 41. He claimed to have never seen the Porsche. The police report noted that there were no skid marks at the scene of the accident. The report also concluded that the Porsche had blended into the pavement in the evening twilight, making it virtually impossible for Turnupseed to see it. Turnupseed was found cleared of any possible charges, and successfully avoided interviews until his death in 1995.
Rebel Without A Cause opened in New York on Oct. 26, 1955. With his death in 1995 . With his death still fresh in their minds, Deanís performance had a powerful effect on the public. They couldnít watch the movie without feeling the great loss of such young talent. Giant followed in 1956. Dean was now considered ďthe personification of the restless American youth of the mid-1950sĒ and James Deanís immortality was forever sealed in the consciousness of America.
TOO FAST TO LIVE, TOO YOUNG TO DIE
Curse of the James Dean Car
Because of James Deanís notoriety and the tragic manner in which he died, over the years many fictionalized accounts of him have been written. Our fascination with Dean perpetuates the fabrications. These stories are for the most part hearsay or fiction, created not to pay respect to Dean but to hype the storyteller and his self-perceived place in history.
There are a number of these stories that swirl around Deanís Porsche 550 Spyder, all relating to ďThe CurseĒ that befell anyone who was associated with the ďDeath Car.Ē These myths continue 50 years after the accident. Weíve chosen to take several of these tales and examine them, citing facts whenever possible to repudiate the fiction.
Myth: George Barris purchased the wreck for $2,500.
Truth: Two doctors, Troy McHenry and William Eschrich, purchased the wreck from Deanís insurance company. Dr. Eschrich had raced against Dean at Bakersfield, driving an Offenhauser Special. The engine, transmission, steering, brakes and other undamaged mechanical parts were salvaged and what was left was sold to Barris.
Myth: A doctor brought the engine, put it in his car and was killed the first time he raced it.
Truth: Dr. William put Deanís engine In a Lotus 9 and ran it unsuccessfully at Pebble Beach. The engine now belongs to Dr. Eschrichís son Tyler. Dr. Eschrich died in the early 1990s` unrelated to any racing event.

Myth: Someone bought the steering linkage and after installing it in their car they were killed.
Truth: Dr. Troy McHenry did replace some older parts with the Dean parts on his 550. Dr. McHenryís steering did fail, but it was the Pitman arm not the parts from Deanís car. Unfortunately, Dr. McHenry died in a crash at Pomona in 1956.
Marcus Winslow On The Porsche Curse: During the DRIVE! Interview with James Deanís cousin, Marcus Winslow, he shared his opinion about the myths surrounding the Porsche and ďThe Curse.Ē
D!: There are some strange stories that have circulated about the Spyder after the accident. Do you believe any of them?
MW: I guess I canít speak for all of it but I know some of it is not true. I just read recently that the engine out of his car was put in another car. A good friend of this doctor was killed in a race not too long after that, and the doctor that bought Jimmyís engine and transmission quit racing. Iíve also read that the steering linkage was taken off the Spyder and put on another car and that person was killed. I donít know if thatís true or not. Iíve also read where the wreckage fell off a trailer and crushed a guyís legs. I donít believe that. I donít believe that it just disappeared in thin air, either.
D!: Does anyone really know what happened to the car?
MW: Who ever disposed of it knows, and I donít know who that is. I canít name any names there. Supposedly, and this was in very bad taste, the California Highway Patrol thought it would be educational to take that car around to different events and show what reckless driving or speeding can do to you. I suppose they thought maybe because Jimmy was popular with the kids theyíd take notice. I think their intentions were good, but as I look back on it, I think it was in pretty poor taste. The only thing left of it was a shell. A lot of pieces had been stripped out of the car.
I canít help but wonder, and I donít know this for a fact, why in 1960 that car disappeared, almost like it lost its usefulness. No one realized at that time how important it would be if theyíd kept it. I hope it never shows up because I donít want a car that he was killed in being displayed around.
D!: Youíd think that, after all these years that it would have turned up.
MW: I think it would have by now if it still existed. I donít think a car that belonged to someone as well known as Jimmy can be hidden for half a century

James Dean, the Legend as I Knew Him
An Interview with Marcus Winslow, Jr.
Marcus Winslow Jr. is the cousin of James Dean. He was born three years after Dean came to live with his Aunt Ortense and Uncle Marcus Winslow on their farm in Fairmount, Indiana in 1940. ďMarkieĒ as he was known, grew up with Dean and knew him almost as an older brother. Mr. Winslow still lives on the family farm and was kind enough to grant Drive! This interview.
D!: What kind of relationship did he have with his father? Was it strained?
MW: No, thatís not really true. Magazines and books try to make it out that way, but thatís really not the way it was. They lived here and in Marion and Fairmount for the first 5 years of Jimmyís life. His dad worked for the Veteranís Administration hospital as a dental technician. He got an opportunity to go to California to work at a VA hospital in Santa Monica, and the decided to go.
D!: When did his mother fall ill?
MW: Jimmyís mother got cancer and at first they didnít know what was wrong with her. It finally became obvious that she wasnít going to survive. Emma Dean, Jimmyís grandmother and my grandmother, decided to go to California and stay with them and do what she could. My Mother told Emma to tell Winton that she and my Dad would be glad to take Jimmy and raise him either on a temporary or a permanent basis.
D!: That had to be a difficult decision for Winton.
MW: His dad spent every dime he had on doctor bills and he sold her car to help pay bills, and he tool so much time off of work that when Jimmyís mother died, he was going to lose his job if he tool any more time off. Thatís the reason he didnít come back for the funeral. A lot of people have tried to make out that he was uncaring and thatís just not true.
D!: How did James feel about the separation?
MW: My Mom and Dad always told my that he adjusted here just fine. The kids in school tool right up with him and he with them and Iím sure he missed his mother terribly. What child wouldnít He and his mother were very close, but my Mom and Dad said they never saw any sign of him having any emotional effects from losing her.

D!: Your parents provided a great nurturing environment for him.
MW: Yes, my Mom and Dad treated him just like their own child, as a matter of fact they probably spoiled him worse that they did me and my sister, just simply because of what had happened to home. He was here until he graduated from high school in 1949. His dad had written and indicated that heíd like Jimmy to come back to California and go to school, and possibly be a lawyer.
D!: Itís hard to imagine James Dean in jurisprudence.
MW: Jimmy thought about that and at that point the really liked acting so he took his dad up on the offer to go back to California and go to school for a while. He lived with his dad and stepmother for a while and went to Santa Monica Junior College and then he transferred over to UCLA and from what I understand, he wasnít interested in being a lawyer. His interest was in the stage and being an actor.
D!: When he was in high school , he was involved in a lot of theater?
MW: Yes, he was. He was involved in high school plays. He liked the attention. He liked to be in debates and he was also a good athlete. He was one of the star basketball players at Fairmount High School and hi played baseball.
D!: So young Mr. Dean had a pretty well adjusted life.
MW: He had a good life. He had a lot of friends.
D!: I donít want to impugn the Indiana public schools, but for a kid growing up in the Midwest in the late 1940s, he certainly became extremely well read and developed a sophisticated appreciation for music and culture. Did that all happen after he left Fairmount and went to New York?
MW: Some of it came from here. There was a minister here in Fairmount by the name of James DeWeerxd. He had served in World War II and was shot up pretty badly. He was a big influence on Jimmy.
D!: Letís talk about James Dean the gearhead. He had a real passion for motorcycles and fast cars. Didnít your dad buy him is first motorcycle?
MW: Right. He had a Whizzer, which was more or less a bicycle with a little motor on it. Then he got a 1947 CZ, a motorcycle made in Czechoslovakia. It was a small motorcycle. There was a motorcycles shop about a quarter mile down the road from here called Carterís Motors and he sold Indian motorcycles. The Czech is what Jimmy used to ride to high school. He didnít have a car when he was here.
D!: He did drive though?
MW: Dad bought a brand new `49 Ford and Jimmy did drive it to school a little and drove to his senior prom. I still have the Czech motorcycle and I still have the `49 Ford.
D!: You repainted it red didnít you?
MW: Yeah, itís dark red now, I had it for years and finally decided to restore it. We tool the body off the frame and it looks as good underneath as it does outside. The guy who painted it talked me into going to the maroon color. Itís not the original color but itís sharp.
D!: What did he drive when he was in California?
MW: Dad shipped that Czech motorcycle out to him in California and he had it out there for a short time. On one of the visits Mom and Dad had out to California to see Jimmy and his Dad, they took the Czech apart, took the wheels off, and put it in the trunk of the `49 Ford and he brought it back here. One time when Jimmy was home he traded the Czech in at Carterís for another motorcycle. He was going to ride it back to New York. Mom was worried about him riding that motorcycle back to New York. He got as far as Pennsylvania and it broke down. He ended up trading it for another motorcycle and rode that to New York.
D!: He had a pretty good collection of them in California, didnít he?
MW: I donít know how many he had out there. He did have the Czech that Iíve got. The one he had when he died was a `55 Triumph TR-5 a Trophy 500.
D!: Heís supposed to have had a Harley, a 500 CC Norton, an Indian 500, a Lancia scooter and a Triumph T110 that was called ďDeanís Dilemma.Ē
MW: I donít know about any of that. Hereís what I know, and thatís all I can tell you. He had the Czech. He bought a British motorcycle, thatís the one he started to New York on and it broke down. He traded it for an Indian, I donít know how big it was, just that it was an Indian. He rode that on to New York. He bought the Triumph TR-5 that I have in late `54 or early `55. Itís titled as a `55. Now as far as the Norton goes, I donít think he ever had a Norton, a Harley, that scooter, unless itís the one he rode in Rebel Without A cause. I canít imagine him buying anything that tame.
D!: What was his father like?
MW: His dad was a very good person. He was quiet and reserved. Since Jimmyís death heís gotten a bad rap from the press on claiming that he didnít want Jimmy or that they didnít get along. I donít think there was any more friction between them than there was between any parent and child. Usually, as time goes on, things work out. In fact, they were together the morning of Jimmyís death.
D!: They had an early lunch the day Dean died, right?
MW: They went to Competition Motors and hung around there for a while, then they went across the street to a place called Ranch Market. A lot of publications have said it was Farmerís Market. I know theyíre wrong because I have a picture of Jimmy and his mechanic sitting in the car and in the background you can see on the side of the building that says Ranch Market. Jimmyís dad told me they just walked across the street so that had to be the place. They had some doughnuts and coffee, and, this is something most people donít know, Jimmy didnít have any money with him. He told his dad he didnít have any money and could he lend him some? So Winton gave Jimmy $33 dollars and then of course Jimmy insisted on buying everyoneís coffee once the got over there.
D!: Did he ever race his motorcycle when he lived in Indiana?
MW: No, not that I know of. The motorcycle he had wasnít big enough to race. But he did love to ride it wide open, which was only about 50 miles per hour. I can remember him riding by the house, heíd lay down on the seat with his feet sticking straight out the back. Heíd do it just to tease my Mom. It probably wasnít all that dangerous, but she thought it was. There was a field right across from the motorcycle shop, and Mr. Carter said guys used to take their motorcycles over there and theyíd race around on their own.
D!: He was pretty competitive though, wasnít he?
MW: There are four trophies here in the museum. A couple or three are for first place. They may have been first in class, not first to cross the line. The last race he ran, he blew the engine up in his speedster. During the filming of Giant he wasnít allowed to race. Then he bought the Spyder a few weeks before he died.
D!: Thank you so much for taking this time to share your personal memories of your cousin, James Dean, as you knew him