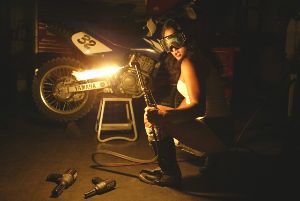 Photo By Larry Dalton
www.plushent.com
www.dtpcrew.com
www.sacramentoraceway.com

Melody Kho makes a living in real estate, but the 33-year-old's heart lies on the racetrack. A sport-bike enthusiast since her teenage years, Kho is a regular motorcycle drag racer at the Sacramento Raceway's Wednesday Night Street Legal Fun Drags. She's also a founding member of the Sacramento-based all-girl motorcycle club Plush Entertainment. The Plush Team, open to all sport- and dirt-bikin' women in Northern California, is gearing up for a summer of wild rides. Why chase after the leader of the pack when you can lead your own?
15 Minutes
By Becca Costello
You got your first bike as a teenager?
Yeah, in 1989. It was just recreational, not for racing. That was before helmet laws, so it was really fun back then.
Were your parents worried?
They totally were! They still are.
How did you start racing?
My friend Jason Bauer drag-races bikes. He told me to come out one night and watch him compete. It was really boring for me to watch. I wanted to do it! So, he taught me everything I needed to know, and I started going out in August of last year.
How was your first race?
I was totally nervous, and I didn't do very well. The light turned green, and I was slow. You have to go really fast, with a quick reaction time.
How long is a motorcycle drag race?
It's a straight quarter-mile. You race against your own estimated time. When you're racing against another person, whoever gets closest to the time they dial in wins. It seems like your time's never the same. You tell them, "I'm gonna do this race in 12 seconds today," and you just hope you get it. You don't want to "break out," which means you go faster than your estimated time, because then you're out. It's tricky. You lose more than you win.
Have you won?
Yeah! I've won four times in the last year.
How fast do you go in a drag race?
One hundred twenty-five miles per hour is the fastest I remember. They have timers at the track that tell you how fast you went.
What kind of bike do you ride?
I have a GSXR 600, a 2003. It's by Suzuki. It's a good sport bike.
Do you do your own repairs?
I try not to. I want a professional to do my work. Me and my girlfriends, the Plush Team, we change our own oil and filters, we do our air pressure, stuff like that. But when it comes to anything else, it's safer to go to a professional.
What is the Plush Team?
We're a group of girls who ride sport bikes. There was no sport-bike riding club for girls in Northern California. There's one in the Bay Area and some down south, but nothing here. So, we're trying to start something. We've got a Web site, www.plushent.com, but it's still in the making. We've got girls who drag-race, girls who race on the track, girls who race dirt bikes and girls who do freestyle dirt biking. They do the tricks in the air and all that crazy stuff. There are 11 or 12 of us that ride here. We like to ride up to Forest Hill, where the roads are twisty. It's really fun.
Do you meet regularly?
Thursday nights, we meet at Jamba Juice in Loehmann's Plaza with DTP Crew. DTP is the guys' riding group. It stands for "disturbing the peace." You can show up there about 8:30 p.m. during the season, when it's warm out, and you'll have about 200 bikes out there. We all go for rides or get something to eat. That's where the guys go, but we meet there, too, because there just aren't enough of us.
Have you ever crashed your bike?
Yes. I used to wear cute girl clothes when I rode, but now I don't. I wear boots all the time, and I always wear full gear. I crashed on the street in Auburn. I went off the road. I was scratched up, but my feelings were more hurt than anything.
How can someone learn to drag-race?
Go to the Sacramento Raceway. They have instructors who explain everything. Actually, Jason and I promote the raceway, and we have free passes to give to people who want to try it. We'll walk them through it the first time they come out. It's really a safety thing. Everybody wants to go fast on their bikes or in their cars. It's safer to do it there, where it's legal and you have some instruction.
All you need to race is a bike?
Pretty much. You have to have full leathers and boots that come above the ankle, if you're going to go past 120 miles per hour. And it's pretty typical to go that fast.
What attracts you to racing?
The speed. It's an addiction. I don't drink or party. This is just something I'd rather do